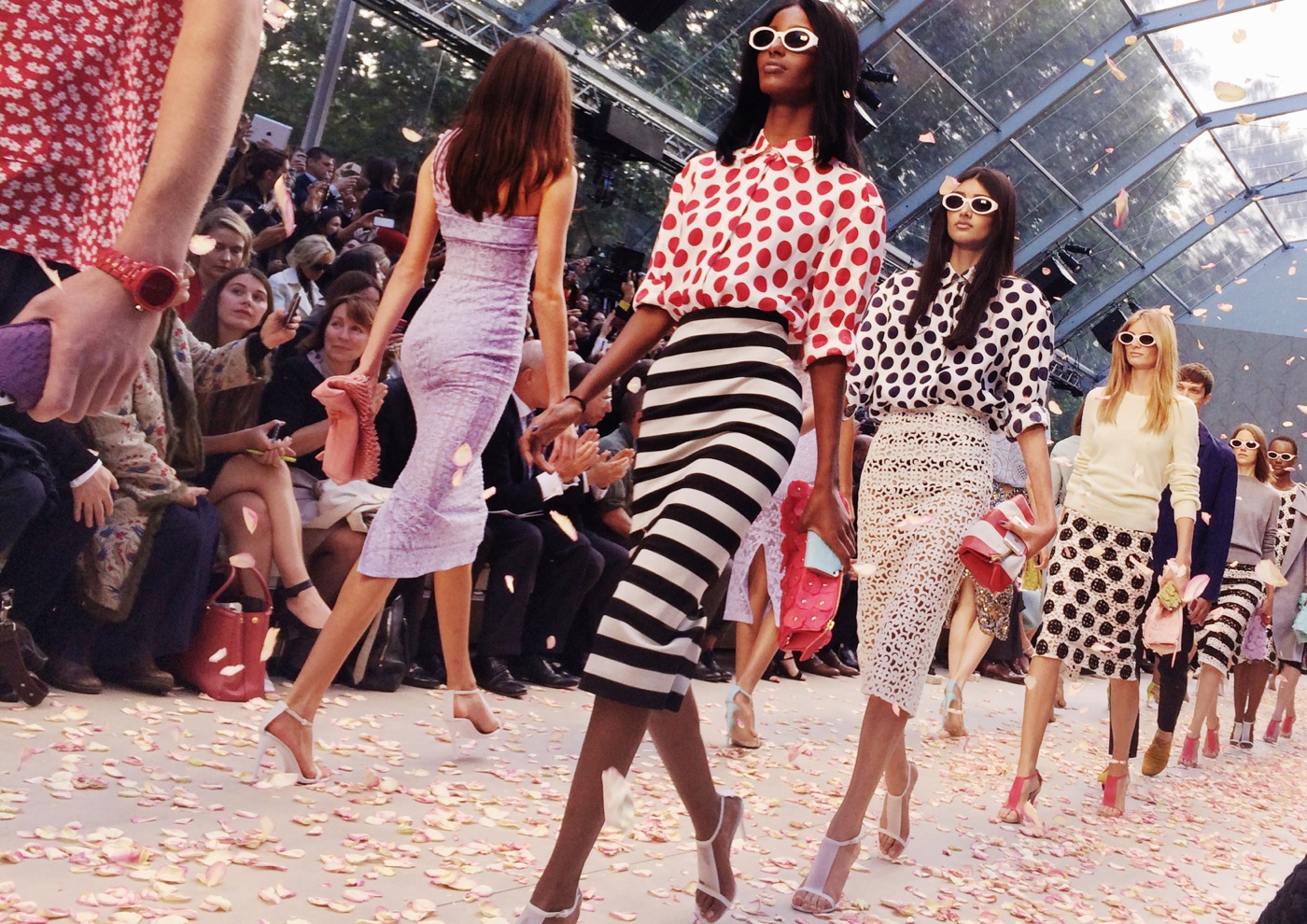 Featured Image Courtesy: stylerumor.com
Juicy fresh hues, bold and vibrant prints, with a ghost of the last season glitz-n- glam, are the hush-hush words ruling the runways and the roads in the Spring-Summer 2014.
Down with the heavy layers, we are here to shed our inhibitions, but casually. Bold and structured yet comfy and light, are the flavors of the season with abundance of color play. Conscious and serious, yet, very seemingly effortless are the trends of the season, that you can not take it lightly. In the Spring- Summer 2014, style oozes with confidence and power, enjoying the delicate luxuries of a spring fashion punch of old and new.
Spring'14 Fashion fast forward: 10 wardrobe must-haves to rock this season:
Candy Colors: Throw on some real bright colors this season, then calm it down with some safer pairings. Mish-mash loud colors with soothing separates, for a safer game or experiment and have fun with all matchy-matchy hues. Think popsicle, and there's your color palette for the season! Add as much of the color as you want. Else, you can still play-up your icy mints, cool blues, fresh greens. However, the whites will continue to rule through all summers.
Image Courtesy: static.squarespace.com
Dimensional Prints: Prints are serious this season, real and loud. Tribal Aztecs, polkas and florals, in all bright colors, and lively digital prints, are to be seen everywhere. The traditional shibori prints and tons of textures, will do the talking for now.
Crop Tops: Summers are here and it's time for some skin show. Sweat out all the last season holiday pounds, and flaunt your mid riffs in the daring and glamorous bra-lets, or you could also make it more casual, with the cute crop tops. Team up the cropped uppers with colored pants, skirts, etc. to give a more chic look.
Comfy Bottoms: The sweat and heat makes us all look for natural and thinner fabrics, even more. No offense to the denim patrons, lighter cotton pants and jeggings, will run the show for now. But, it got to be more spirited with colors and prints. Plus, the fits will be more straight and retro.
Structured Silhouettes: The strong lines and textures of the garments will reflect power and confidence. Though not so snug, we will see fits to be more structured bearing in mind the warmer weathers.
Oddity of  Slogans and Emblems: Eccentric logos, symbols and hard meaningful quotes on the tees, will scream for attention. Well, this past years fashion faux pas, is rocking the fashion trends once again, and is sure to grab eyeballs everywhere.
Chunky Footwear: The clackers of blocky and chunky heels or comfy flats in solid colors, are our favorites. To add more glam, sport one with the jewel art works.
Image Courtesy: 24.media.tumblr.com
Boho Chic Sacs: Lazy tan totes or the carry-it-all sack, side slings in leather, suede or canvas, the word of the season is rustic with cowboy fringes and passed down look.
Kinky Baubles: If it's brave it got to be the thing for the season. Turn heads in the gothic cross rings, claws bracelets, feathery owl earrings, etc. Try out, the new bold ear-cuffs and heavy statement neck-pieces, to jazz up your summers.
Image Courtesy: media1.onsugar.com