Top Anti-Aging Essential Oils Series – Lavender Oil
Lavender oil probably the No. 1 oil that helps heal skin conditions, burns and cuts .
It is well known that free radicals i.e. toxins, chemicals, pollutants, etc., are responsible for jeopardizing your immune system and can cause unbelievable damage to your body, including your skin. We need antioxidants to successfully fight free radical damage, and according to research, lavender essential oil helps our body produce 3 of the most powerful antioxidants : glutathione, catalase and superoxide dismutase.
About Lavender Oil




Lavender oil is extracted mostly from the flowers of the lavender plant, primarily through steam distillation. The flowers of lavender are fragrant in nature and have been used for making potpourri for centuries. Traditionally, lavender essential oil has also been used in making perfumes. The oil is very useful in aromatherapy and many aromatic preparations and combinations are made using lavender oil.
Health benefits of Lavender Oil
The health benefits of lavender essential oil include:
its ability to eliminate nervous tension,
relieve pain,
disinfect the scalp and skin,
enhance blood circulation and
treat respiratory problems.
 Lavender oil blends
Lavender oil blends well with many other essential oils including :
cedarwood,
pine,
clary sage,
geranium,
nutmeg.
Today, lavender essential oil is frequently used in various forms including aromatherapy oil, gels, infusion, lotion, and soaps.
Lavender Oil For the Skin
Most likely due to its antimicrobial and antioxidant characteristics, lavender essential mixed with benefit- rich aloe vera or coconut oil has profound benefits on your skin. Just 10 drops per one ounce of aloe vera or oil will sooth the worst sunburn and bring rapid healing to dry skin, minor cuts and scraps.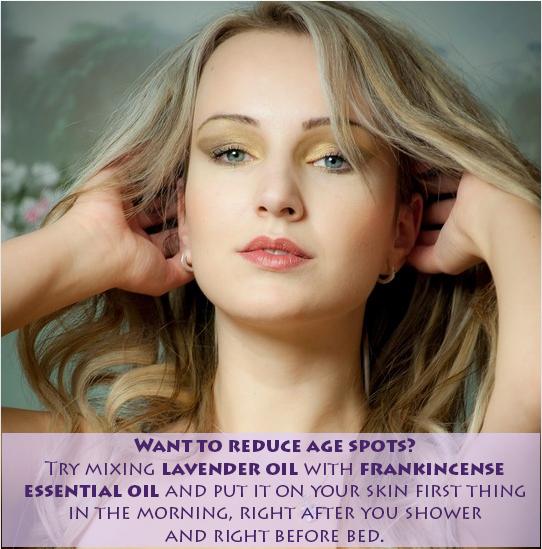 Want to reduce age spots? Try mixing lavender oil with frankincense essential oil and put it on your skin first thing in the morning, right after you shower and right before bed.
Source:
www.organicfacts.net
draxe.com
Featured Image – www.sandersonengine.com